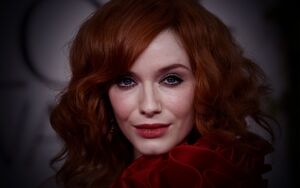 Christina Thatcher is a human with the Earth Cargo Authority who joins the Pathfinder NX-XX crew.
Comes from Ann Arbor, and is 36 years old
Mother and Father both retired, one older sister who works for Starfleet in San Francisco.
Graduated from the University of Michigan after going to business school there and took on work with the Earth Cargo Authority
Initially Earth based, eventually transferred to Draylax where she organised regular cargo runs back to Earth via Vega Colony.
Was headhunted for the NX-XX program because of her experience in interstellar logistics and transport management.
Pathfinder Mission
Edit
Before joining the Pathfinder Christina was living with two Draylaxian women in the Captial.
She is part of the Operations staff and typically works Alpha shift from an office near the Cargo Bay.
She has shared quarters aboard the Pathfinder
Christina Thatcher has the likeness of actress Christina Hendricks. Her accent is General American. Free spirited, resourceful and adventurous she was considered the 'perfect' candidate to have aboard as part of the 'Logistics Team' and left a lucrative job in the Earth Cargo Authority for the challenge. Is unused to Starfleet protocols but interacts well enough with the crew and is afforded some lee-way as a 'civilian'.
Intimate Encounters
Edit