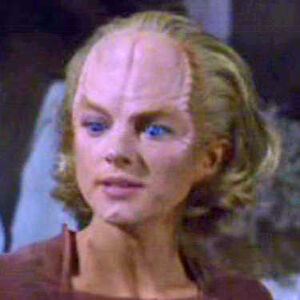 Lieutenant Forlisa is a Denobulan with the Denobulan Science Academy assigned to the Pathfinder NX-XX for its voyage.
Comes from the Hayfix District, and is 29 years old
Graduated and stayed on with the Science Academy as a Starship Engineer (specialising in Warp Drives)
Has three husbands
Was assigned to the Pathfinder's Engineering team in charge of maintaining the shuttle flight aboard.
Pathfinder Mission

Edit
Before joining the Pathfinder Forlisa lived on Denobula with her husbands.
She is part of the Shuttle staff and typically works Alpha and Beta shifts in the Shuttlebay.
She has shared quarters aboard the Pathfinder
Forlisa has the likeness of a minor character from Enterprise. Her accent is something like General American. She is very sociable and enjoys 'hanging out' with the other Engineers, especially in the mess hall off-duty. She is well known amongst the crew and universally liked for her kind attitude and infectious good nature.
Intimate Encounters
Edit